Information About Fillers in Clyde, NC
One of the top complaints that dermatologists receive from patients is that they have unwanted wrinkles, hollows, or sagging that make them look and feel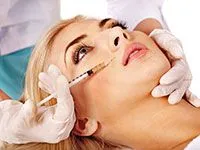 older. Clyde NC area patients who are desperate for a solution for age lines, frown lines and wrinkles in the skin may find it in dermal fillers at Blue Ridge Dermatology. Learn more about this treatment and how it can make you look many years younger.
What Are Fillers?
A filler is a product (usually a liquid or gel) that is injected into the skin to soften and markedly diminish areas of volume loss. Volume loss is a major factor in sagging, wrinkling or creating non-youthful aging of the face. The filler may be a variant of hyaluronic acid and depending on its cross-linking may be short acting or longer acting. There are other substances used in fillers such as poly-L-lactic acid (Sculptra) and calcium hydroxylapatite (Radiesse). A filler is chosen based on the facial areas that need to be corrected, the patient's desires and budget, and the doctor's experience with the various fillers. Most fillers produce an immediate smoothing and volume replacement effect consistent with how a patient looked in pictures when they were younger. Some fillers don't have an immediate effect, but may stimulate new collagen that can last much longer than temporary fillers. Some fillers have an immediate volume effect as well as a delayed tissue stimulation effect. Side effects (such as bruising) from fillers can be minimized and avoided by ensuring that you receive your treatment from an experienced, board-certified dermatologist.

Lasting Results
Patients often report that dermal fillers have lasting results. Temporary collagen fillers can last for up to four months without needing to be refreshed. Hyaluronic acid fillers can last up to 12 months. Other solutions, such as Sculptra, have been developed that can maintain smoother skin for up to two years.

Fillers at Blue Ridge Dermatology
Blue Ridge Dermatology is a professional skin care practice located in Clyde, NC that has offered a variety of fillers for years. Dr. Michael J. Masters, M.D. is a board-certified dermatologist who is recognized by a long list of organizations, including the American Board of Dermatology, the American Board of Laser Surgery, the American Society for Dermatologic Surgery, and the American Academy of Cosmetic Surgery.
For more information on Fillers in the Clyde, NC area call Blue Ridge Dermatology, P.A. at (828) 456-7343 today!